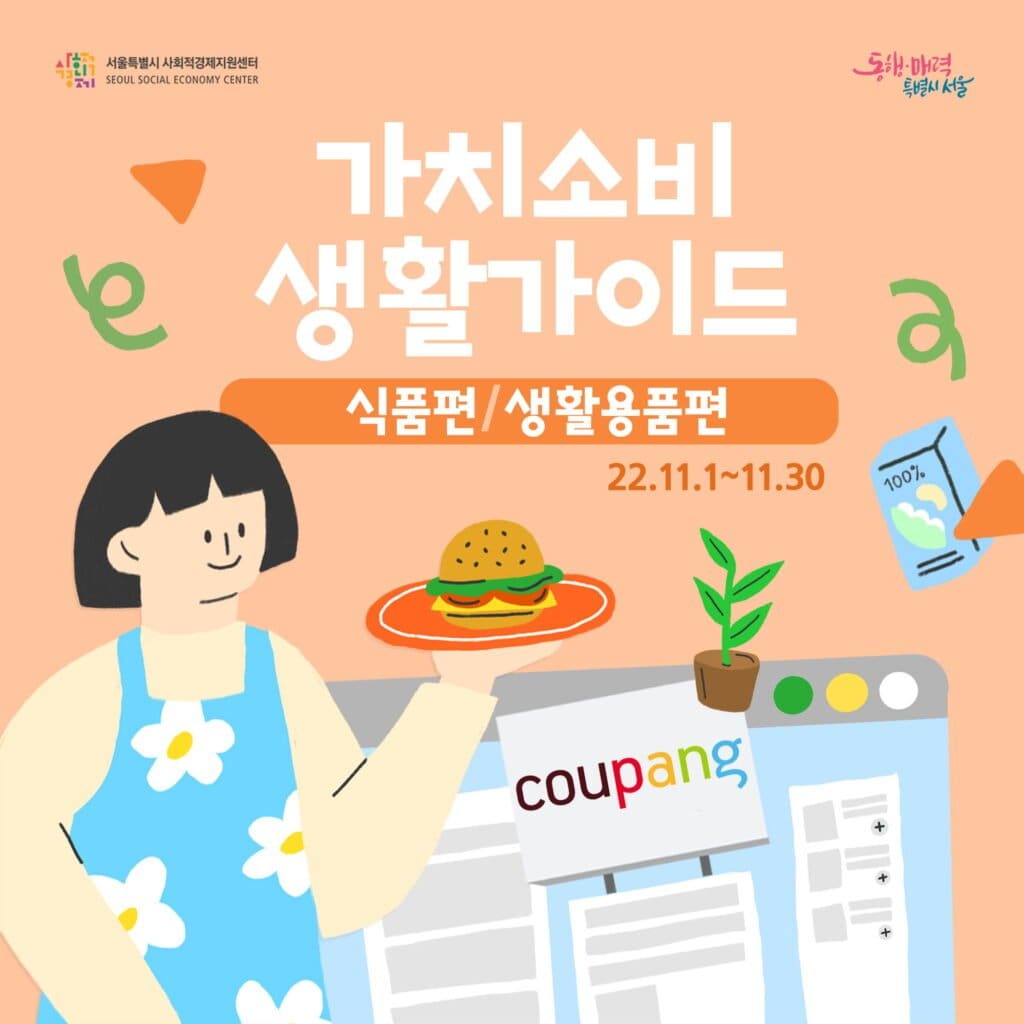 "Healthy Daily Life with Social Enterprise Products"
Seoul Social Enterprise Support Center manages the 'Social Enterprise Products Promotion Hall' at Coupang in November with the social enterprises that try to realize various social values through innovative business models to make a connection with the citizens who are willing to fulfill value-consumption for healthy and sustainable daily lives.
The daily supplies people often use and the food products take the main place at the promotion hall. 'Value-consumption Good Item KKeul Item' displays about 100 kinds of daily supplies from the 10 social enterprises and 'Food Product Exhibition that caught the Taste and Health' shows 30 kinds of products from the 6  social enterprises.
These products are recommended to check: "Bamboo Toothbrush that replaces plastic toothbrush – Project Noah", "Cooling and Thermal Bag with the renewable materials waste pet bottles – Project1907" and "First Aid Kit with Job Creation Mission for the Developmental Disabilities and the Elderly".
The Food Product Promotion Hall consists of the recommended products coping with the climate change and coexistence of local communities: "The Enjoyable low-salted lunch box – EatMapl, The Eco-friendly vegetable substitute meat – Devotion Food, "Bonghwajeong Natural Honey Growing with Local Farmers – Rediv"
This Promotion proceeds in the 'Exhibition category' on the Coupang website and it is able to participate at the "Daily Supplies Promotion Hall" and the "Food Product Promotion Hall". For related inquiries, contact the 'Center Value Platform Team'.
Juyeon Cho, the Head of the center said: "I expect this promotion could increase the reputation of social enterprises' products and social values by cooperating with Coupang, the representative online open market with 18 million customers and be a chance to make better daily lives with the participating companies and the customers.
Introduction of Seoul Social Enterprise Support Center
Seoul Social Enterprise Support Center is a private governance cooperation established on 23rd January 2013 and opened on 11th April 2013. The center supports the growth of social enterprises such as social enterprises, cooperatives, village enterprises and self-support enterprises to help Seoul citizens have better lives.
Coupang: http://www.coupang.com
Daily Supplies Promotion Hall: https://pages.coupang.com/p/73706
Food Product Promotion Hall: https://pages.coupang.com/p/73695
Website: http://sehub.net/
Retrieved from: https://www.newswire.co.kr/newsRead.php?no=954604